Dr. Tim Passmore has been senior pastor of Woodland since 1996. He received his Bachelor of Arts Degree in Psychology from Samford University, his Master of Arts in Christian Education and his Doctorate of Christian Education in Leadership from New Orleans Baptist Theological Seminary. He has four children - Emily, Michael, Alex and Abby. He is a passionate baseball fan and sailor.
Adult Ministries Director
Bryan has been involved with Adult Education Ministry for over 20 years. He enjoys seeing believers connect, grow and serve, as they share life together. Bryan is married to his high school sweetheart Michelle, they have been married for 26 years. They have seven wonderful kids, Faith (24), Betty (21), Brandt (20), Justin (19), Joseph (18), Morgan (18) and Kenny (15). They live in Bradenton and enjoy spending time working on their house and enjoying family time on their lanai.
Family Ministries Pastor & Communications Director
Jeff has been in full-time ministry since 2007 and his greatest desire is to see kids & students choose Jesus and walk in His truth. He is married to his High School sweetheart, Kim, and together they have 4 children; Lilly, Luke, Lucy & Liam.
Nathan has been involved in worship ministry for over 20 years and loves to see God's people praise Him. He received his Bachelor of Science from Cumberland College and Master of Arts in Worship from The Southern Baptist Theological Seminary. Nathan is married to his high school sweetheart, Wendy, and they have four boys: Christian, Charlton, Colin and Chandler. His hobbies are cycling, classic cars, the beach and cooking Italian food.
Kane was born and raised in Melbourne, Australia where he received his Bachelor of Science degree in Marine Biology from Deacon University in 2004. While studying at college, he met his wife, Heather, who was an American exchange student in Australia. Kane moved to the U.S in 2005 and after marrying his college sweetheart in 2006, moved to Florida. The Rigneys came to Woodland Community Church in 2010 and in 2017 Kane was hired full-time with Woodland. His hobbies include mountain biking, snorkeling and SCUBA diving, music and swimming. Kane and Heather have three children; Ocean, Evelyn and Charlotte.
Melanie's family came to Florida from northern West Virginia in May of 1999 and she joined the staff at Woodland two months later. She says "I have witnessed God doing amazing things through the leadership of this church and consider it a privilege to be a part of it."
Cindy has been a part of the Woodland Staff family for the last thirteen years. She has worked in the Accounting field for 36+ years with the last 20 years being in the Nonprofit sector. Cindy enjoys spending time with her family and especially her new granddaughters.
Director of Financial Management
Woodland Early Childhood Center & Dunn Preparatory School
Lynn is married to Dewayne, Executive Pastor. Lynn and Dewayne moved to Florida from Tennessee in 2015 for warmer climate, beautiful beaches and to help care for Dewayne's elderly grandparents. They have 2 beautiful daughters, Britney and Katie that bring much joy and laughter!! Lynn is an accountant with years of experience in the non-profit business sector. She has also volunteered in Children's and Youth ministries for the majority of her adult life. She considers it a blessing to be able to blend the two together here at Woodland!
Middle School Pastor/Activities Director
Sammy has been involved with Student Ministry for over 10 years. He loves seeing Students connect with God and take the Next Step in their story with Him. Sammy's interests are God, family, running, movies and Disney!
I have been serving in the youth ministry here at Woodland for 4 years now! I am a recent graduate of the University of Central Florida and I initially grew a passion for youth ministry when I was in High School. My freshman year of college I became the Woodland Students Intern, and from there I fell in love with Woodland and all that God was doing here! I am excited to see all that God has in store for our students, and I am looking forward to help them with their walk with Christ!

Jordan was born and raised here in Bradenton Florida. He traveled as a full time missionary for two and a half years before becoming the Technical Director for Woodland at the end of 2015. Jordan is married to his best friend Savannah Schultz.
Director - WECC & Dunn Preparatory
Creative Director. Woodland Fine Arts Academy
Robb is a graduate of The University of Michigan where he received his Bachelor of Fine Arts degree in Musical Theater. He has performed on Broadway, in National Tours, and Regionally throughout the US and Europe. He has also made guest appearances on television and independent films. His Broadway credits include Grease (Doody, Kenickie), The Scarlet Pimpernel (Marquis de St. Syr, Armand, Fight Captain); Off-Broadway: A Wedding Album (Groom), Ophelia (Laertes) National Tour: Meet Me in St. Louis (Lon), Grease, The Scarlet Pimpernel; Regional: Godspell (Lamar), Oklahoma (Will Parker) 7 Brides…, The Producers (Leo Bloom), Married Alive (Paul), Footloose (Lyle), 1776 (Joseph Hewes), A little Night Music (Henrik, Helen Hayes Nominee), Chess (Freddie Trumper), and Pippin (Leading Player). His Film and TV credits include "Scrubs", and "Slings and Arrows."
Most importantly he has a heart for ministry, a desire to lead people to know Christ to grow closer to Jesus and connect with other believers as a church to bring change in our world. Robb is married to Jenny McKindles and combined, as a blended family, they have 4 children. Bronson, Maxwell, Carter & Emme.
Preschool Ministry director & Fine Arts Managing Director
Danielle serves as the Woodland Preschool Ministry Director & the Managing Director of Woodland Fine Arts Academy. She's a wife & mother of two children. She sees it as a blessing to serve the Lord in ministry and a joy to work with children of all ages and their families!
Preschool Ministry Coordinator
Judy has attended Woodland since moving to Florida from Missouri in 2005 with her husband and two children. She has a passion for children and education that has ran the gamut from teaching preschool to serving as a substitute teacher to homeschooling her own kids. Working with the precious children at Woodland and sharing the love of Jesus with them fills her heart with a tremendous joy. Her faith and strength come from her Lord and Savior and is best expressed by Isaiah 40:31.
CLUB 54 DIRECTOR/WECC Bible TEACHER
Kim is thankful that Woodland sees the value in a pre-teen ministry and looks forward to spending time with the Club 54 (4th & 5th Graders) students weekly. Kim also loves using her teaching background to teach the Preschool Bible classes at the WECC. Kim and her husband Jeff have been together ever since their first date at Disney World as High School Juniors back in 1996. They have 4 tremendous kiddos, Lilly, Luke, Lucy and Liam and love having Woodland Church as a place to connect to God's people and serve Him in love.
Colleen has provided accounting support to Woodland's Finance Director since 2014. She received a BA in Interdisciplinary Studies from UCF in Orlando. In her spare time, she is an active genealogist who frequently contributes articles to the publications "Your Genealogy Today" and "Internet Genealogy."
Administrative Assistant/ Designer
Sylvia has been on staff at Woodland for 17 years and has been privileged to watch the school and church grow over those years. Sylvia is not only the person you will most likely speak with on the phone when you call, she also utilizes her passion for art and design to help all ministries of the church and school with design work. Sylvia is a mother and grandmother. Her favorite verse of Scripture is Hebrews 13:2 "Do not forget to show hospitality to strangers, for by so doing some people have shown hospitality to angels without knowing it."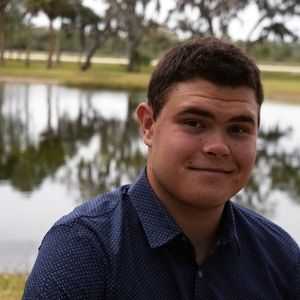 Student Ministry & Video Assistant
Dan has grown up at Woodland, from a baby in the nursery, to a student leader in the youth group today. He has been involved in the Woodland Fine Arts Academy for over 10 years, Kids ministry, Tech Ministry, and a student band member. His interests are Photography, Videography, Musical Theater, and Action Sports.
Jenny is married to Robb McKindles, Creative Director of Woodland Fine Arts Academy. Robb and Jenny moved to Florida, from Michigan, in 2019 for the purpose of ministry at Woodland. Jenny and Robb are a blended family with 4 kids. Bronson, Maxwell, Carter and Emme. They are committed to helping people find freedom in a relationship with Jesus Christ by using the gifts, talents & experience the Lord has given them. Jenny's background in Marketing brings a strategic and creative plan for communications at Woodland.